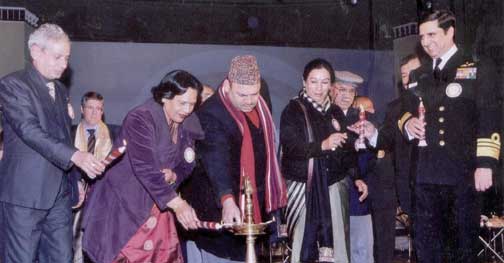 Adarsh Public Schools, New Delhi successfully completed 75 years since its inception back in Lahore, erstwhile India, in 1936, by its Founder Chairman Dr Bhagat Ram Sahgal.

All the branches of the school had a glittering display of cultural talent at Talkatora Stadium on 26-27 December 2011. The school's Academic toppers were also awarded with scholarships by eminent Guests like Delhi Mayor Ms Rajni Abbi, Vice Chief of Naval Staff, Vice Admiral R.K.Dhowan, Director of Education Mr. Diwan Chand, Mr. Mukesh Sharma MLA, Education Officers , Defence Attaché to India from the Embassy of Switzerland Colonel Bruno Russi.

The students potrayed their talent through a Ballet on the Celebration of 100 Years of Delhi and the Epic of Lord BUDDHA were presented. Not only this, the students of the Junior School also presented a scintillating show depicting various emotions of human life such as Love, Fear, Peace, Anger & Happiness.

All present were left spell bound by the performances. "May the school reach many more milestones in the years to come" was the common message by the Mayor and Vice Admiral.