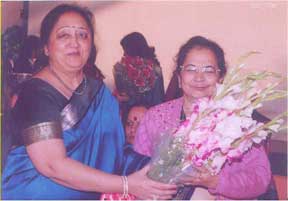 With all its glitz & glamour, it was yet another spectacular display of talent on the elevated plane of Adarsh's platform when the Annual Day celebrations took place with full panache on 24th December 2009. The occasion was graced by a number of distinguished guests Mr. Mukesh Sharma - MLA, Mrs. Shukla Malhotra -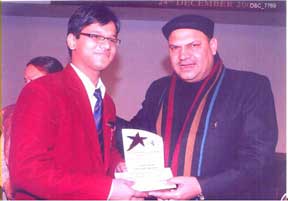 Dy. Director of Education, Distt. West - B, Mrs. Daljeet Kaur - Addl. Director SCERT, Mrs. Neelam Gulati - Education Officer, Zone XVIII, Mr. H.K.Pandey - Dy. Education Officer Zone XVIII.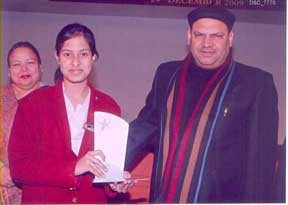 The traditional lighting of the lamp illumined the hearts of one & all wherein the words of encouragement from the Guests added spark to the fuel of learning. The Annual Report read by the school Principal was an icing on the cake which illustrated the fact that the school caters to the multifarious needs of the children stating the achievements both at Scholastic & Co - Scholastic level.
The Position Holders for the Academic Session 2008 - 09 were felicitated with Shields. Scholarships were also awarded to the meritorious CBSE toppers for class X & XII.
The cultural segment began with the Invocation dance - Ganesh Vandana perfectly setting in the mood & the rhythm.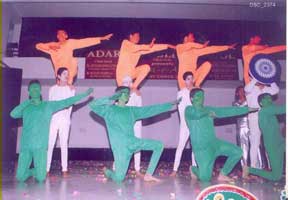 The star - studded evening witnessed an impeccable performance of students presenting a ballet bringing alive the glimpses of the life history of the Great Indian Conqueror and Ruler king Akbar. Creativity was at its peak when the oratorical skills of the children were brought forth show casing their latent talent. Aiming at National Integration and world Peace,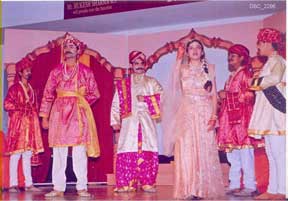 the finale took place with the foot - tapping and scintillating performance on 'Jai Ho', which won a standing ovation from all.
A good beginning always makes a great ending. It truly culminated with the colourful bonanza winning applauses from all quarters leaving behind a trait of everlasting memories. Vote of thanks was proposed by Mrs. Ragini Saxena - Cultural Co-ordinator of the school.